By innovative | 10 Dec, 2020
Elan Nirvana Upcoming Commercial Project In Sector 50 Gurgaon
Elan Group is All Set for the launch of their Much Awaited New Masterpiece In The Centre of Gurgaon, Located Amidst Poshest Catchment of the Town, This Marvel is Situated At Nirvana Country Sector 50 Gurgaon.
After Setting the Records At Elan Epic Which is India's 1st Luxury Retail Destination, Elan Nirvana Will Set the New Trend In Commercial Real Estate.
Elan Nirvana Country Sector 50 Gurgaon will be Conceptualised by the Renowned Architect UHA London, Which will boasts the best of Luxury Attributes Inside the project.
Taking off with the Location, Elan Sector 50 Gurgaon is Penetrated in between 1000 Acres of Poshest Catchment in the Centre of Nirvana Country Gurgaon, The Project is Located Right Next to Cedar Crest having the Fantastic Approach Right from the 24 Mts Wide Road, Which is the Main Connecting Road Between South City 2, Nirvana Country Mayfield Garden, Malibu Town And Rosewood City.
Elan Nirvana Gurgaon is just 15 Minutes From the Main NH8 Gurgaon And 30 Mins from the IGI Airport Delhi, The Project has the Great Approach from Golf Course Extension Road and Sohna Road Gurgaon.
Elan Nirvana Country Sector 50 Gurgaon will have the unique concept which will be unveiled soon, The Launch of the Project is Excepted in January 2021. Approvals of the Projects are awaited. It Is Said Elan Upcoming Commercial Project In Nirvana Sector 50 Gurgaon will be on the Lines of Elan Epic Only.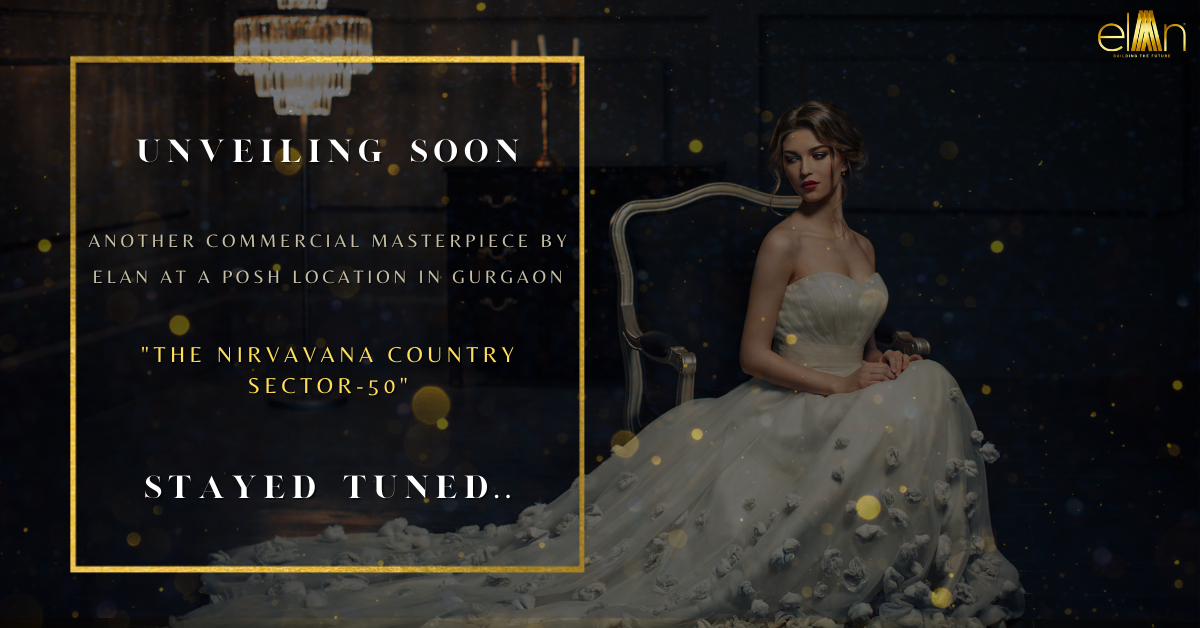 Elan Group is planning the different definition for Elan Sector 50 Gurgaon all together which may be out of the queue when it comes to the other high street retail and commercial projects in Gurgaon.
Starting with the Waterbody, LED Screening Or Water Cascades, This Elan New Commercial Project in Sector 50 Gurgaon will have the Niche Amenities and will be built on the lines of 5 Star Hotel.
Starting with the Grandness of the Porch, The Architecture of Elan Sector 50 Gurgaon will Give the Perfect blend of Super luxury Arrival Experience, Having the Palm Avenue within the Market Elan Nirvana Country Gurgaon Will Give you the Feeler of La Mair Dubai.
Having 3 Basement Levels For 1000 Car Parks, Elan Nirvana Gurgaon Is The Electric Mix of High Street Retail Sought In A Sheer luxury, With Premium Anchor Stores And Showrooms On Ground And 1st Floor.
On The Upper Floors, Elan Nirvana Country Gurgaon will have the Blend of Restaurants And Food Court And on 3rd Floor PVR Cinemas will be taking over the Place.
Elan Group is planning to Launch their New Project Elan Nirvana Gurgaon in Q1 2021 And is all set to break the records of Commercial Industry of India, Though Elan Group Has already successfully launched Elan Mercado, Elan Town Centre, Elan Miracle, Elan Epic in Gurgaon and All of them are the huge success.
Elan Nirvana Country Gurgaon The New Commercial Project In Gurgaon is the First Ever Launch in the Middle of Nirvana Country and will be show stopper of that location.